Pinoy designer's bamboo, rattan car showcased in Italy
It seems almost unimaginable to build a car from bamboo and rattan but such a car does exist and it was made by a Filipino — renowned furniture designer Kenneth Cobonpue.
"Phoenix" is what 43-year-old Filipino Cobonpue calls his design, the world's first and only car made from bamboo and rattan, which was showcased in a furniture fair in Milan.

One of Cobonpue's many designs featured in the annual Salone Internazionale del Mobile (International Furniture Fair), the "Phoenix" enthralled audiences, including a guest from Mercedes-Benz. "Phoenix" was created by designers Cobonpue and German Albrecht Birkner in just 10 days with the use of bamboo, rattan, steel, and nylon.
Visitors remarked that the car looked like a bird about to take flight. The car has a tough backbone running to the rear. The bone, as it continues to the rear, forms into a bundle of thin rattan strips huddled together with LED (light-emitting diode) rods to stand for the tail light.
The rear has a space for the engine, not yet part of the design package, while the empty spaces on the sides are for the glass windows. The car seat is also made of rattan strips.
Inhabitat
, an environmental web blog, said it is a "small and elegant" solution to the problem of waste emitted by old cars.
"Phoenix", the site said, is designed to last the average length of time a person keeps a car – about five to 20 years. The skin can be replaced if the owner wishes to keep the car longer.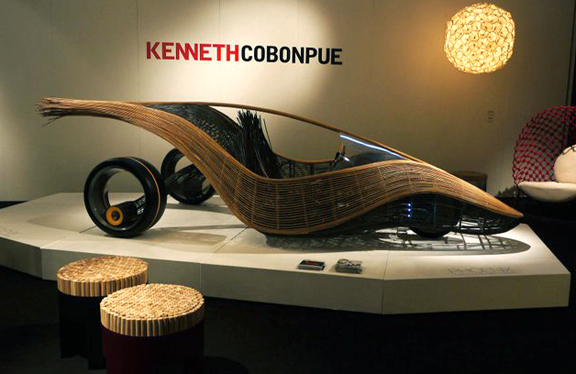 Kenneth Cobonpue's "Phoenix," the world's first and only car made from bamboo and rattan, was showcased in a furniture fair in Milan, Italy. Photo courtesy of Kenneth Cobonpue
Brad Pitt likes Cobonpue
Cobonpue's furniture has already made it to Hollywood.
According to
Asian Journal
, his pieces have been featured in several international films such as in "Ocean's Thirteen" starring George Clooney, Brad Pitt, and Matt Damon; in "Made of Honor" which stars Patrick Dempsey; "Spread" with Ashton Kutcher; and the film remake of "Total Recall" with Colin Farrell.
His work has also been shown in the hit American television series "CSI: Miami."
In fact, news site
Mid Day
said Pitt has personally purchased many of Cobonpue's designs such as the "Voyage Bed", and a couple of Dragnet chairs made with steel cable and stainless steel.
The Queen of Jordan and Will.i.am of Black-eyed Peas have also ordered furniture from him.
One will find many of his furniture in luxurious hotels and restaurants such as Ritz Carlton Hotels and Residences, The Grove, MGM Grand Hotel, Hilton, Four Seasons Hotels, Beverly Hills Hotel, and Double Tree Hotel, among others.
Cebuano roots
Cobonpue's unique works are inspired by plants and other living things by his looking at nature and thinking what made it beautiful, Asian Journal reported.
Cobonpue began his career in 1987 when he took up Industrial Design at Pratt Institute in New York.
He returned home to Cebu in 1996 to manage a furniture design and manufacturing company founded by his mother, Betty, a designer famous for working with rattan.
Discovering that modern design could have a new face using natural fibers, he eventually created the pieces that are part of his collection today.
On his official
website
, Cobonpue said: "I think Cebu and the surrounding islands somehow inspire much of my designs today. As a boy, I was always taken by the exuberant richness of nature that was around me.